The Tale of the Nail: 1880s Bed Made Into A Bench
From time-to-time Dee and I find an especially interesting piece of furniture that we recognize as having outstanding potential. One Saturday morning I stopped at a garage sale five minutes from our home. My attention was drawn to an old bed set up in the front yard. I took a look and found a few minor imperfections, but still wanted the piece. Minutes later, I agreed on the price and was on my way home.

   1880s Bed Rebuilt into a gorgeous bench. Next step – paint and wax!
The antique bed dated from the 1880s. How do we know it's about 140 years old? The clue was found in the nails that were used in the construction. See the photo… Notice the shape and black coloration, representative of nails made by blacksmiths and used by furniture craftsmen until the start of 1890s mass production. It's The Tale of the Nail!
        The Tale of the Nail. Handmade by a blacksmith prior to 1890!
The process of turning this beautiful antique bed into a bench took some thought and a great deal of painstaking detail work, including hand filing to shape some portions of the completed project. Final steps for me included building a center support and placing the top boards for the seat. Then Dee applied several coats of Annie Sloan Chalk Paint, sanded the surfaces to add a distressed look, and applied the finishing wax. Once the project was complete, it was ready to take its place in the Hearth & Gate booth…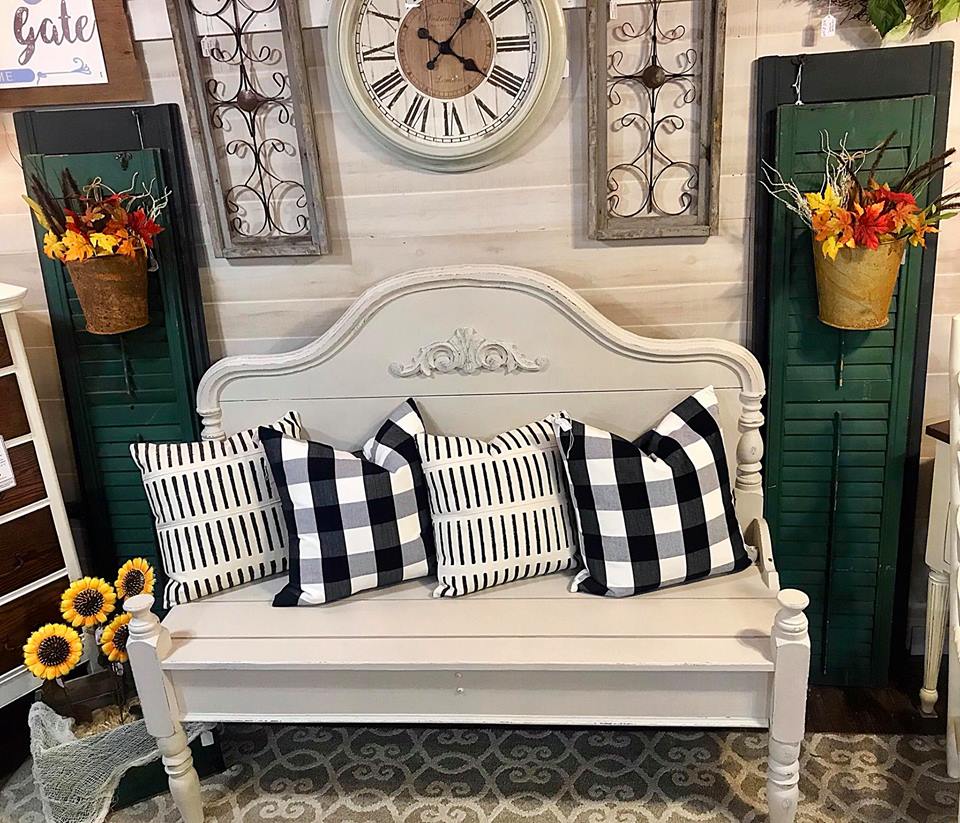 The completed project – properly staged with a set of matching pillows!
Dee and I are always pleased when our antique furniture pieces are purchased by someone who truly loves them. The bench was bought by a young family from Nashville – the husband is a doctor and they have two little daughters. I asked the girls if their Mom would read to them on the bench and they nodded their heads with enthusiasm!
Well, nearly 140 years of history for the former bed. Hopefully the young girls will not only enjoy stories while sitting with Mom, but perhaps in the years to come, these little ones will grow up, have children of their own, and carry on the tradition… We hope so!
Find us on Facebook: Hearth & Gate
Also on Instagram: HearthandGate
© Jeffery J. Michaels / Plain English Publications 2018
(Quotations allowed with attribution to this blog)