First, the best perspective…
To every thing there is a season, and a time to every purpose under the heaven: A time to be born, and a time to die…
– Ecclesiastes 3:1, 2a
Seventy years ago today, the well-known China Clipper crashed while landing in darkness at the harbor of Port-of-Spain, Trinidad.
The four engine Martin M-130, based in Miami, Florida was one of three luxurious models of this type built for Pan American Airways.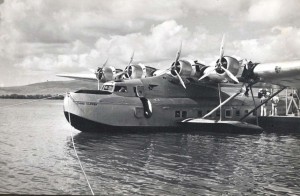 The China Clipper moored in Hawaii – late 1930s
Photo Credit: Hawaii.gov
Click on Photos to Enlarge

Thirty passengers and crew were aboard the Clipper that fateful night, one of whom was Captain Leonard W. Cramer of Syracuse,
New York, a well-known veteran aviator. He was the first officer
and was piloting the plane at the time of the crash, losing his life
along with 22 others. He was also my mother's uncle.

My mother, Barbara Lindsey, was only six years old when her Uncle Leonard died, but he left a strong and positive impression. She spoke of him with fondness throughout her life, as did other relatives.

Captain Leonard Cramer October 1929
Photo from collection of Jeff Michaels
As an early aviator, Leonard Cramer was a pioneer, but like many fliers of his day, he also was a risk-taker. The Syracuse, New York Herald Journal described him as "one of the old-time dare-devils of aviation in Syracuse and Central New York", having survived several close calls during the 1930s.
In June of 1930, Captain Cramer's seaplane caught fire while afloat more than a mile offshore on Onondaga Lake near Syracuse. He was forced to jump into the water to escape the flames and as he swam toward shore, the fuel tank exploded and the plane sank. He was assisted by a young boy named Bud Windhausen who rowed a boat out to rescue him. He had another close call in October of 1933 when he was providing rides at an air show in Fulton. It was reported that Cramer, "Narrowly escaped death in a 150 foot plunge to the ground… His plane wobbled as it came out of a loop and turned over as it crashed." On another occasion, in June 1935, he was flying in a circus in Massena and attempted a 'dead-stick' landing. "He pulled his plane into the bank of a canal to avoid crashing into a crowd of 2000 people watching the show." A sudden downdraft was blamed for this accident. He seemingly led a charmed life, walking away unscathed from all three incidents.
In spite of these near disasters, Captain Cramer was highly regarded as a flight officer and pilot, with a long and distinguished record. He was trained at the E B Heath Flight School in Chicago in the late 1920s and became a capable flight instructor. His experience and record of excellence led to a 1940 invitation to provide aerial combat instruction to English fliers. He also ferried bombers between the US and England, earning $1,000 for each Atlantic crossing and on one of these flights – in December 1941 – he set and briefly held the speed record for transatlantic flight. The Herald Journal took note of the event, reporting on a dispatch received from London:
'The British Ministry of Aircraft Production reports that an American consolidated four engine bomber has set a new record for crossing the Atlantic. The huge plane, called The Liberator by the British negotiated the distance in 8 hours and 18 minutes. The plane was piloted by an American described only as Capt. Cramer.'"
But all of this was in the past. Captain Cramer sat in the left seat of the M-130 China Clipper, piloting the well-engineered and beautiful flying boat that had enjoyed nearly a decade of storied history of its own. In October of 1935 it was delivered to Pan American Airways
in San Francisco and spent the balance of the 1930s island hopping across the Pacific, regularly landing at Pearl Harbor, Midway Island, Wake Island, Guam, and Manila as it delivered passengers and mail along the route and to the ultimate destination of Shanghai, China. There had been many passages across the Pacific made with a great safety record, but now the famous plane was based in Miami.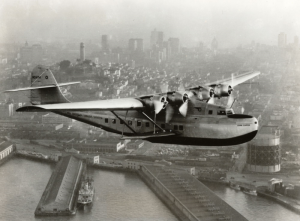 The China Clipper in flight over San Francisco during the late 1930s
Photo Credit: http://postalmuseumblog.si.edu/
Captain Cramer's day began with a 6:30 AM departure from Miami, followed by a stop in San Juan, Puerto Rico at 2:39 PM for refueling. Now more than five hours out from San Juan, the Clipper was due shortly at Port-of-Spain. From there, the final destination would be Leopoldville, Belgian Congo (today Kinshasa, Democratic Republic
of the Congo) in Central Africa. Those on the plane included flight crew members, additional Pan American Airways employees, a few businessmen, spouses, and a young family on their way to Liberia
to serve as missionaries with the Africa Inland Mission.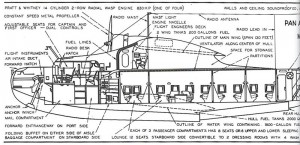 Cutaway drawing of China Clipper interior
Photo credit: Wings to the Orient: Pan American Clipper Planes
1935 to 1945 – A Pictorial History
Shortly before 9:15 PM on the evening of January 8, 1945, Captain Cramer began his descent to the harbor at Port-of-Spain. The harbor lights were easily seen beneath the darkened sky and in a matter of seconds, the belly of the flying boat would gently touch down on the quiet water, followed by a smooth taxi to the mooring dock. However, something wasn't right in the initial approach, so Captain Cramer regained altitude, made a wide circle and began a second descent.
The official report of the Civil Aeronautics Board (forerunner of the NTSB) stated that as Captain Cramer made his second landing attempt, "The plane first contacted the water at more than normal landing speed and in a nose-low attitude." When the plane struck the water, the result was catastrophic failure of the hull, causing the plane to rupture, breaking in two. The China Clipper sank immediately, causing the deaths of 23 of the 30 people on board, including Captain Cramer. The final report of the CAB was released on April 24, 1946 and assigned most of the blame for the crash to Captain Cramer, particularly for misjudging his altitude on the approach.
However, other sources indicate the possibility of contributing factors that led to the crash. There were several reports of the presence of a submerged log that had been placed in the water as a hazardous obstacle meant to cause harm. Others thought there was a small unseen boat that was struck by the Clipper as it touched down. Yet another source mentioned an explosive mine. In addition, the crash occurred during the final months of World War II, giving rise to rumors, which were compounded by customary government secrecy during war time. Whatever the cause, the loss of the China Clipper and 23 men, women, and children was tragic and horrific.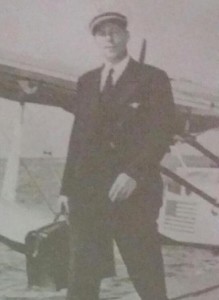 Captain Cramer disembarks – early 1940s
newspaper photograph – source unknown

The shock of Leonard Cramer's sudden death was devastating to my family. I recall my grandfather Edward Lindsey, who was Leonard's brother-in-law, speaking of him on occasion. As he would share a story or even just mention Leonard's name, he seemed to look off into the distance as if he were back in time…
Death, especially when tragic and unexpected, has a deep and lingering effect on those left behind, often creating a void that can never be filled. This is a part of the human experience and one that touches each of us at some point in life. However, the memory of Leonard Cramer continues to be honored in my family despite the tragic circumstances that led to his untimely death.
Captain Leonard Wright Cramer was survived by his wife Marjorie Cramer, his two sons – Leonard W. Cramer, Jr. and Franklin I. Cramer, parents Franklin and Blanche Cramer, his sister Rosamond (Edward) Lindsey, brother Kenneth (Alice) Cramer, and several nieces and nephews including Beverly and Barbara Lindsey. He was 39 years old at the time of his death and was buried in Mount Adnah Cemetery, Fulton, New York.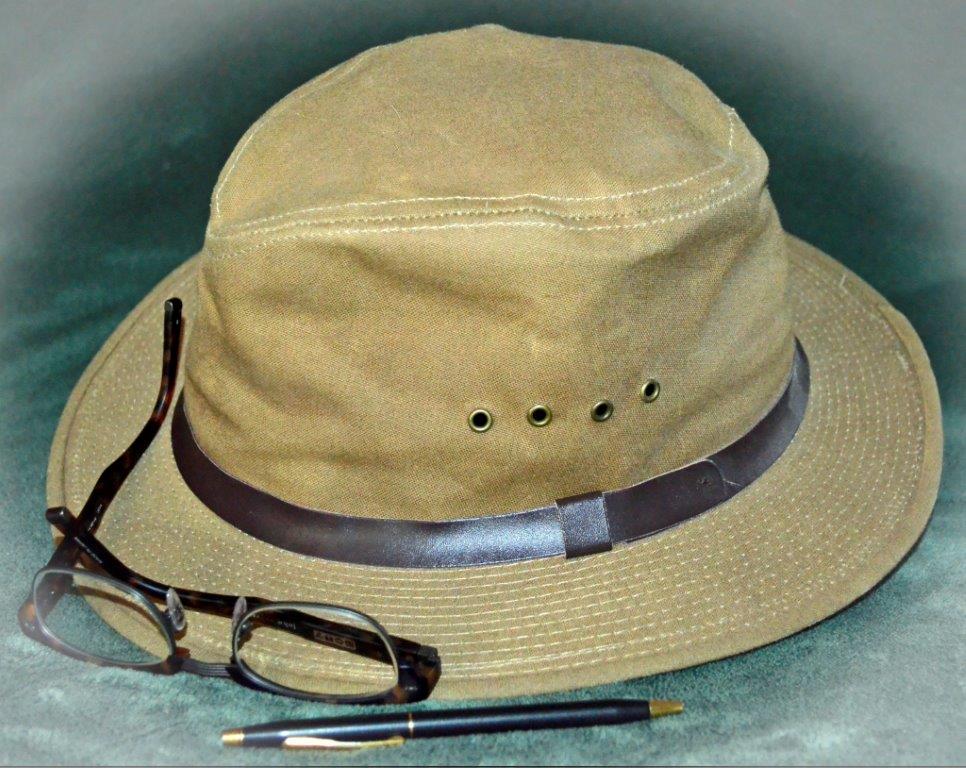 © Jeffery J. Michaels / Plain English Publications 2015
(quotations are allowed with attribution to this blog)
Sources:
Personal recollections of Capt. Cramer's son, Frank Cramer
New York Sun June 27, 1930
Syracuse American October 15, 1933
Syracuse Journal June 17, 1935
Brooklyn Eagle January 9, 1945
Syracuse Herald Journal January 9 and 10, 1945
Official report of the Civil Aeronautics Board April 24, 1946
Cemetery records for Mount Adnah Cemetery, Fulton, New York