Great Artist From The Past: Albert Bierstadt
When I was working on my MS degree in Communication at RIT in 2008, one of the professors arranged for our class to go on a field trip to the Memorial Art Gallery in downtown Rochester. I was enjoying the evening, but nothing really caught my eye until – looking across the room – I saw a beautifully framed painting and I instantly knew exactly what it was.
"They have a Bierstadt!" Considering the setting, my words were spoken a bit louder than they should have been and I surprised the professor with my display of enthusiasm. I quickly walked to where the painting was displayed and spent some extended time admiring this particular piece, totally engaged while ignoring the other pieces displayed in the gallery.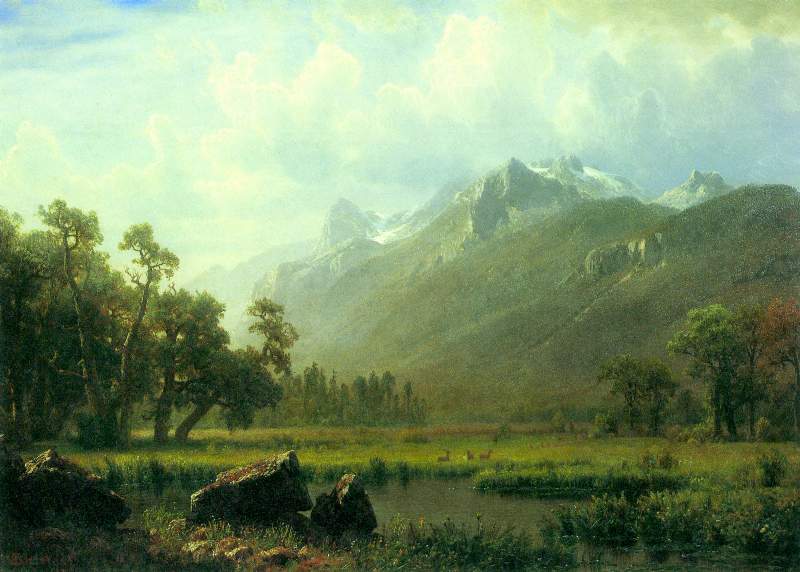 Bierstadt was part of what was known as The Hudson River School, a loose association of artists (Cole, Church, Remington, et al) who shared a common style of painting that became popular in the mid to late 1800s. These highly respected artists were known for painting expansive and majestic scenes of nature in full glory, with a strong emphasis on realism – highly detailed and accurate depictions of the scenes before them. These works included special characteristics of natural light, or luminism, as the concept came to be known.
The Hudson River School was quite different from Impressionism (Monet, Renoir, Cassatt, et al), a form that developed concurrently and also gained high levels of popularity in the 1870s and 1880s. Impressionism was known for its visible brush strokes, ordinary subject matter, and subtle hints of movement. This was quite in contrast with the realism expressed in the works of artists who employed the Hudson River School approach.
I discovered the work of Albert Bierstadt quite by accident several years prior to my visit to the museum. But for me, the Hudson River School style and artistic approach deeply resonated, reminding me of the grandeur I had seen and experienced on numerous occasions while hiking and backpacking in the Adirondack Mountains of New York State.
Bierstadt received his early training in Germany, the land of his birth. He emigrated to America while young, but returned to Germany in his early 20s to study at Dusseldorf. The image below is believed to depict a scene along the Ruhr River near Limberg, Westphalia. When he returned to America, he painted scenes of New England and along the Hudson River Valley in New York State.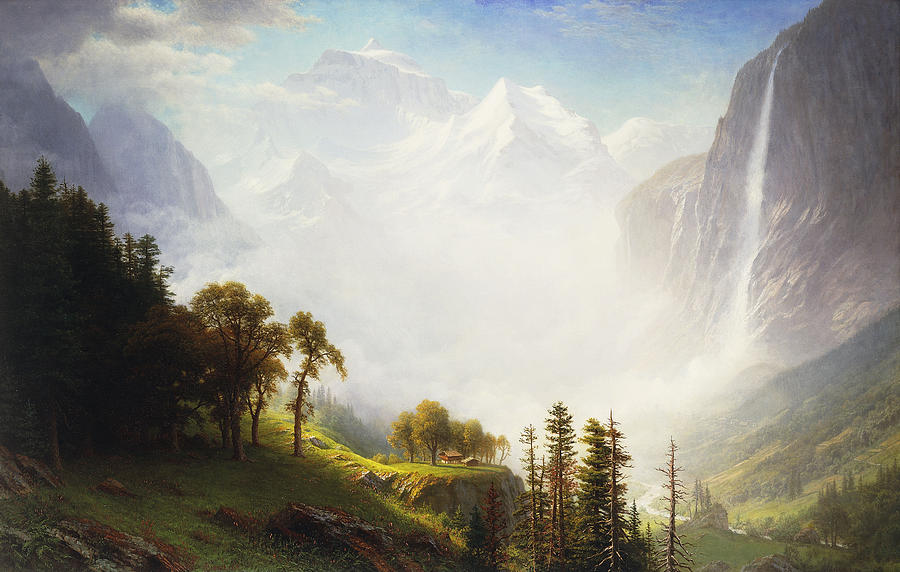 In 1859, when he was 29 years old, Bierstadt traveled west with Frederick Lander, a land surveyor to the American frontier, creating sketches that he later turned into some of his finest art – grand sweeping vistas of towering mountains, dramatic cloud formations, wide expanses of land and water, artistic works that many found deeply moving and inspirational. One of his best known works is below, named The Rocky Mountains, Lander's Peak, completed in 1863. This piece was sold that year for $25,000.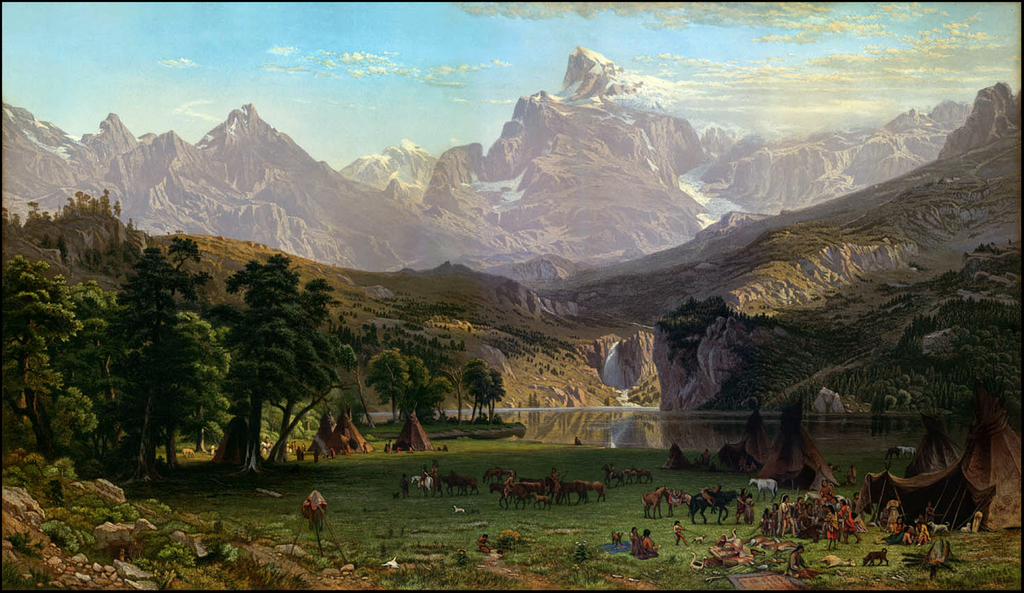 Clouds and sky were essential elements in Bierstadt's works, many of which included storm clouds and filtered light that cast a soft glow on chosen spots within each painting. His work depicted the vastness of the American west, while often including animals such as bison, deer, or horses in the foreground that helped to provide a sense of scale for the immense scenes he portrayed.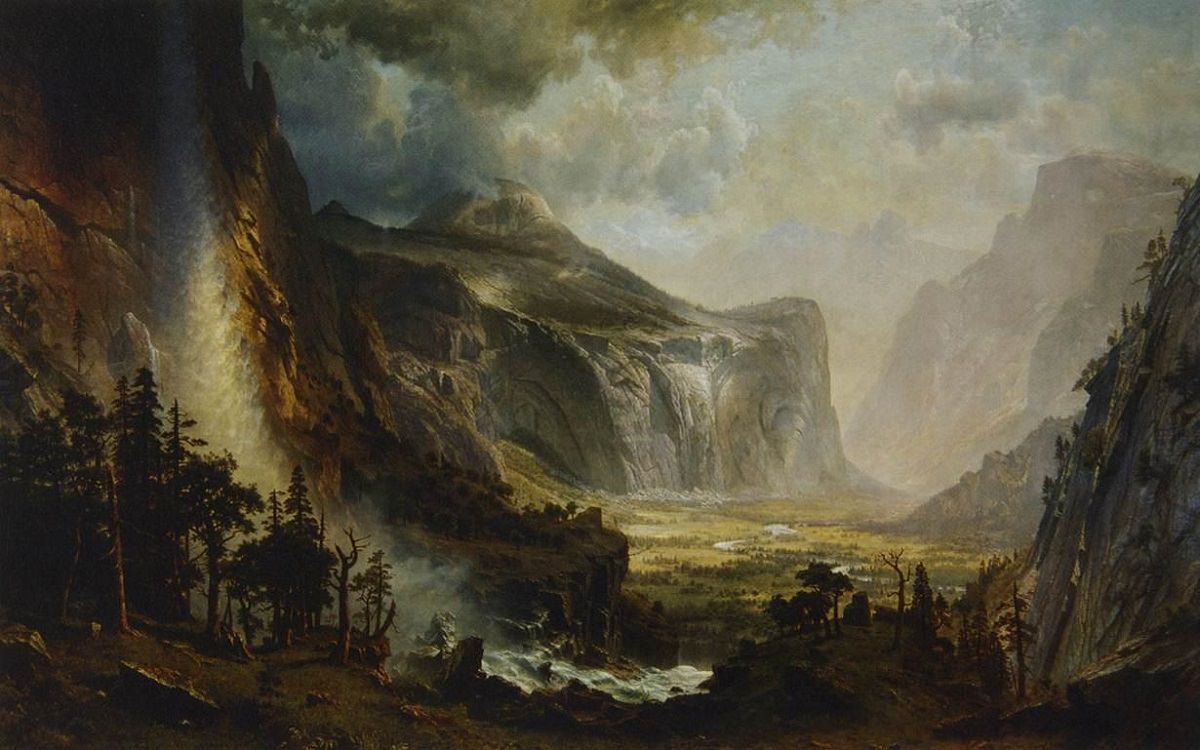 As his fame grew, Bierstadt had occasional exhibitions and opportunities to promote and sell his art. In 1868 he had a private reception with Queen Victoria, where he exhibited two of his landscape paintings. He also had his work on display in Rome (where he had a studio), Berlin, London, and other cities. It was said of his art that it helped to, "fuel European emigration to the United States", as people became enamored with the beauty of the American west. His piece below – Giant Redwood Trees of California – was completed in 1874.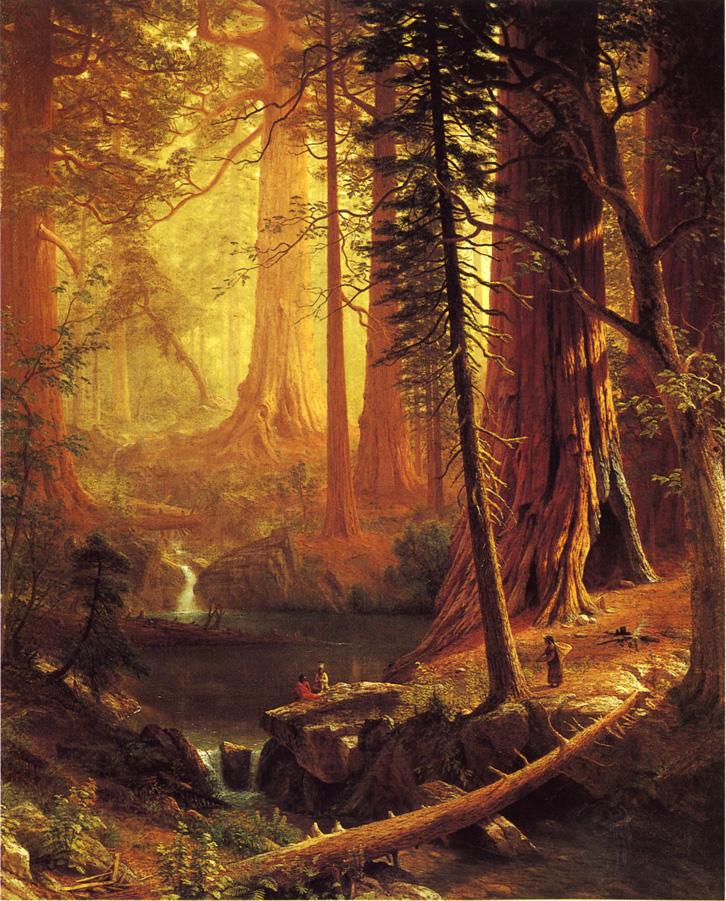 As with most artists, Bierstadt endured contemporary criticism of his work. Then, as interest in art shifted more toward impressionism, his paintings began to fall in popularity. However, interest revived in the 1940s and his work regained a high level of interest which continues to the present day. Individual pieces by Albert Bierstadt can be found in numerous museums across the nation.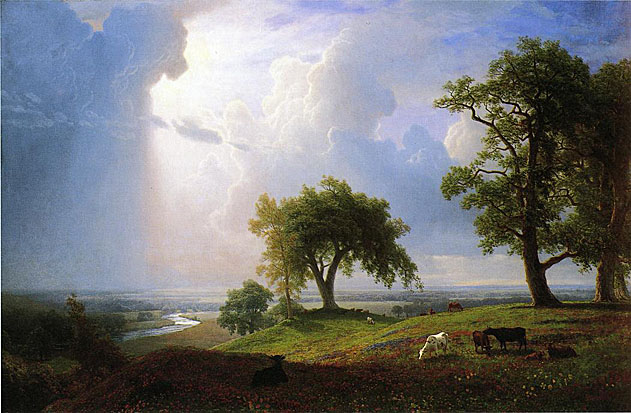 There's more, much more by Albert Bierstadt, who has become my favorite artist. His works are highly respected, each one an absolute masterpiece and greatly favored by those who love realism and artistic detail, especially the beautiful, grand, sweeping scenes of nature.
© Jeffery J. Michaels / Plain English Publications 2020
(Quotations allowed with attribution to this blog)
References:
The Hudson River School. by Louise Minks. Barnes & Noble Books. 2003.
AlbertBierstadt.org